Man, if weren't aware it has rained almost every day for the last 5 weeks. There have been maybe 6 completely-rain free days. Hell it's raining now as I type my most eloquent words, LOL.  Anyway, this weekend was mostly beautiful.
Saturday there was no rain! In the evening we drove across the Golden Gate Bridge to San Rafael to see a movie. Well actually it was a special restored screening of "The 7th Voyage of Sinbad".
For those who haven't seen it, you're going to get 90 minutes of bad acting and hilariously bad dialogue. But you will get the amazing special effects and art direction of Mr. Ray Harryhausen – the man responsible for modern special effects. He's best known for his amazing stop-motion work. If you need to see anything of his though I recommend "Jason and the Argonauts" especially the sword fight against the skeletons! So the man, the legend spoke about the film and fielded random questions from the audience. The man is in his 80s – yet he was energetic, quite funny and apparently still feels the childlike love for his creations and the fun of making the magic. That was a such a fun movie night.
Here's a bonus pic from my favorite Ray Harryhausen movie: Jason & the Argonauts!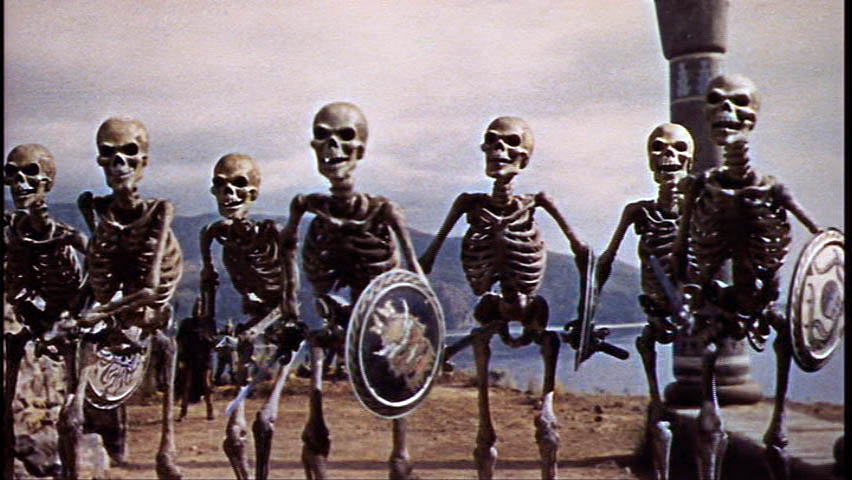 One of the most interesting aspects was the audience itself. THere were artists and other video game industry people like me, film effects people, and children aged 5 to 80!
Sunday afternoon it was baseball at AT & T Park (the SBC Park signs haven't come down yet) to see the San Francisco Giants take on the Atlanta Braves. Great game, SF won 6-5. In fact the last inning was absolutely thrilling. And I don't even like baseball! Somehow Kristen turned me into a Giants fan!