This stylish bear is living the California Modern lifestyle!  Standing in front of his Mid Century Modern home with his '63 Corvette Stingray.
Sketchbook Pro and Adobe Photoshop, 2017.
Prints, towels and more are available at my shop at 

https://society6.com/product/bear-and-car_print#s6-7636902p4a1v45
This is the second appearance of this bear in my work. He was previously seen in my painting "Bear and Credenza"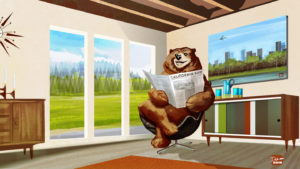 As usual this and more of my work can be seen in my gallery.