Happy New Year. As usual I'm late posting here. We've started 2008 with some crazy rainstorms in San Francisco. When we found out The Donnas were returning to play a gig here, Alan, Brent and I decided to go despite the torrential downpour.
We began our evening at The Chieftan, a very nice Irish Pub. It was my first time there and I was relieved to learn that they served dinner. Fish & chips and Bangers & mash filled our stomachs, and prepared us for the Guiness, whiskey, and gin & tonics that we knew would be coming our way throughout the night.
Standing outside the 1015 Folsom club was fun, even though we were drenched by the time we got inside. 1015 is a dance club, so going to see a live band, much less a rock band here was going to be a weird night for all. We walk into the darkness to find a crazy layout with each large room bathed in a solid color light. This first level was a dull blue. Mirrors on the walls and the rhythmic shots of the strobe lights made the scene seem more chaotic than it really was. It was hard to figure out where the stage was and where we were supposed to go.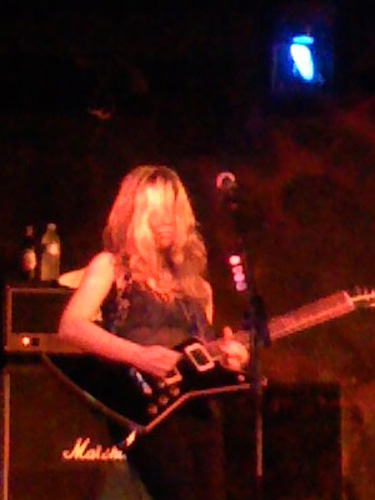 Eventually we found the dance floor with the stage, and killed time while the 2 opening bands played their sets. Alan and I have a debate over gin & tonics going – which has lasted for a decade. I prefer Bombay Sapphire while he is a Tanqueray man. Brent stayed neutral with his Maker's & Ginger. As the 2nd band was tearing down their equipment and the Donna's roadies were getting their stuff ready we staked out our place on the floor.
The house sound system was playing random rock songs for awhile. The 3 of us sang along to Metallica's "For Whom the Bell Tolls"… and then it started. The house lights went down, and green and red lights flared up behind the drum kit. Tori – the drummer was the first to hit the stage. She was quickly followed by Maya (bass) and Allison (guitar) as they started playing the mostly instrumental song "Bitchin'" (which happens to be the intro and title track to their current album). It was a heavy metal march as the guitars and bass crunched along in unison. the last chord fades out… And as Allison starts playing a new riff high up on her guitar's neck Brett ran up to the mic. They dive into the 2nd half of the song and as Brett sings fists and devil horns went up int he air as the crowd began to scream and cheer. And thus began roughly 90 minutes of some heavy rock and roll fun.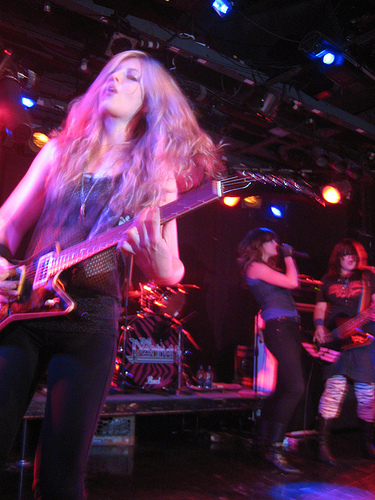 I've seen The Donnas live several times and it's always a treat to see these Bay Area (Palo Alto) girls come home. The Donna's sound has evolved a bit. The basic formula of AC/DC meets The Ramones is now more of the 80s Glam Metal sound heavily spiced with influences of The Cult, Ratt, Motley Crue, Metallica, Van Halen , Joan Jett, and The Runaways.
Sadly, there aren't enough girl-groups that are actual BANDS… you know, writing their own material and actually playing their own instruments. It's precisely that reason why The Donnas rock – not only do they ROCK, but they don't have much competition in that department. I say it's a shame. I like the confident female lyrics and vocals over what is typically thought of as a male-centric music. So if you get a chance to see them live, please do so. You won't be disappointed. These ladies are beautiful, clever, sexy, fun and and most importantly excellent musicians who can strut, swagger and bring the rock as good as any of the guys.
After the show we hit the Encore Karaoke Lounge to hang with some of our coworkers. We stayed through closing and Danny joined us an early breakfast at the Lucky Penny.
\m/